Information: This is the first part of a longer articel that will be subject to editing. I publish this part immediately as I think people might want to have ideas how to calculate the Grexit costs for Germany and Europe.
Costs of a Grexit for the Eurozone
As German and European finance ministers have been more or less silent about the cost of a Grexit, it was once again left to FinMi Varoufakis to speak of one Trillion costs for the global economy.
This is an enormous amount. As it might be an overstated number to get a better deal the question is, is he right? Varoufakis proofed to have sharp analytics, beyond the dream of the EU that spent their time watching the middle finger instead on analyzing his speeches (see Hart aber Fair 29.09.2015 and this article in contrast).
The only studies containing numbers I knew speak about a smaller sums. Today then, first estimates appeared in the wider German press (the Welt) basing their article exactly on these two public available studies by S&P and by IFO. As the Welt limits their indications mainly to an reproduction, I will use both of them here and in addition a 2011 UBS study, but add an in depth analysis around it.
Direct Economic costs
The S&P study contains numbers for all European countries involved, IFO only for Germany. It states €75 - €77 BN costs for Germany while S&P estimates direct costs to € 300 BN in Europe and € 84 BN for Germany. The Welt slightly differs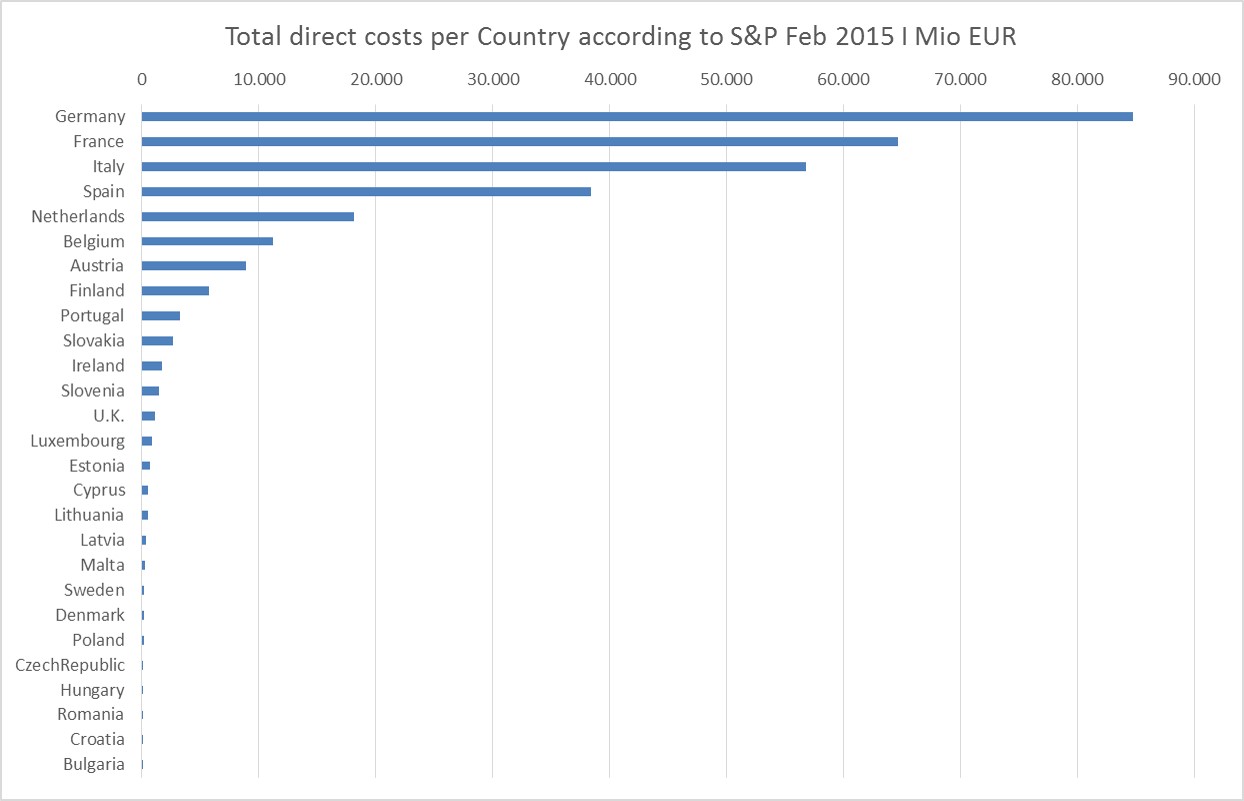 with in their own calculations.
The UBS study from 2011 arrives at about 80 BN for Germany, thus it seems to be a reasonable estimate. On average this means 3% loss measured in GDP for Europe.
In my opinion this is a substantial loss as it translates to one year of GDP in good times and up to 3 years of GDP when one takes per annum growth in Europe after 2010.
This are so far the known estimates of the direct costs.
However I think it is only reasonable to apply lessons learned from financial markets in 2008 and follow the analytical thinking to estimate the total real costs that also comprise necessary adoptions and the risk/the manifestation of contagion.