I have been working on a Fintech overview project recently. It is quite interesting to see the momentum in this sector with all its remarkable companies and concepts. However, to my surprise, one company I have been following since a couple of years is hardly ever mentioned. I think this is strange given its potential. Therefore, this blog post is about one of the most interesting startups in this sector – Tradeshift. It seems mostly overlooked and to be the most underrated startup in the European if not the global startup scene.
Furthermore Tradeshift perfectly illustrates Iceventure's hypothesis regarding the adaption channel of many internet innovations. We, in contrast to many, think it happens via enterprise tech and not via the consumer tech adaption channel.
In order to explain the case mentioned above, let us proceed step by step, by starting with a quick check of the big picture, followed by a description of the basic services and the main arguments.
Market size and potential of E-billing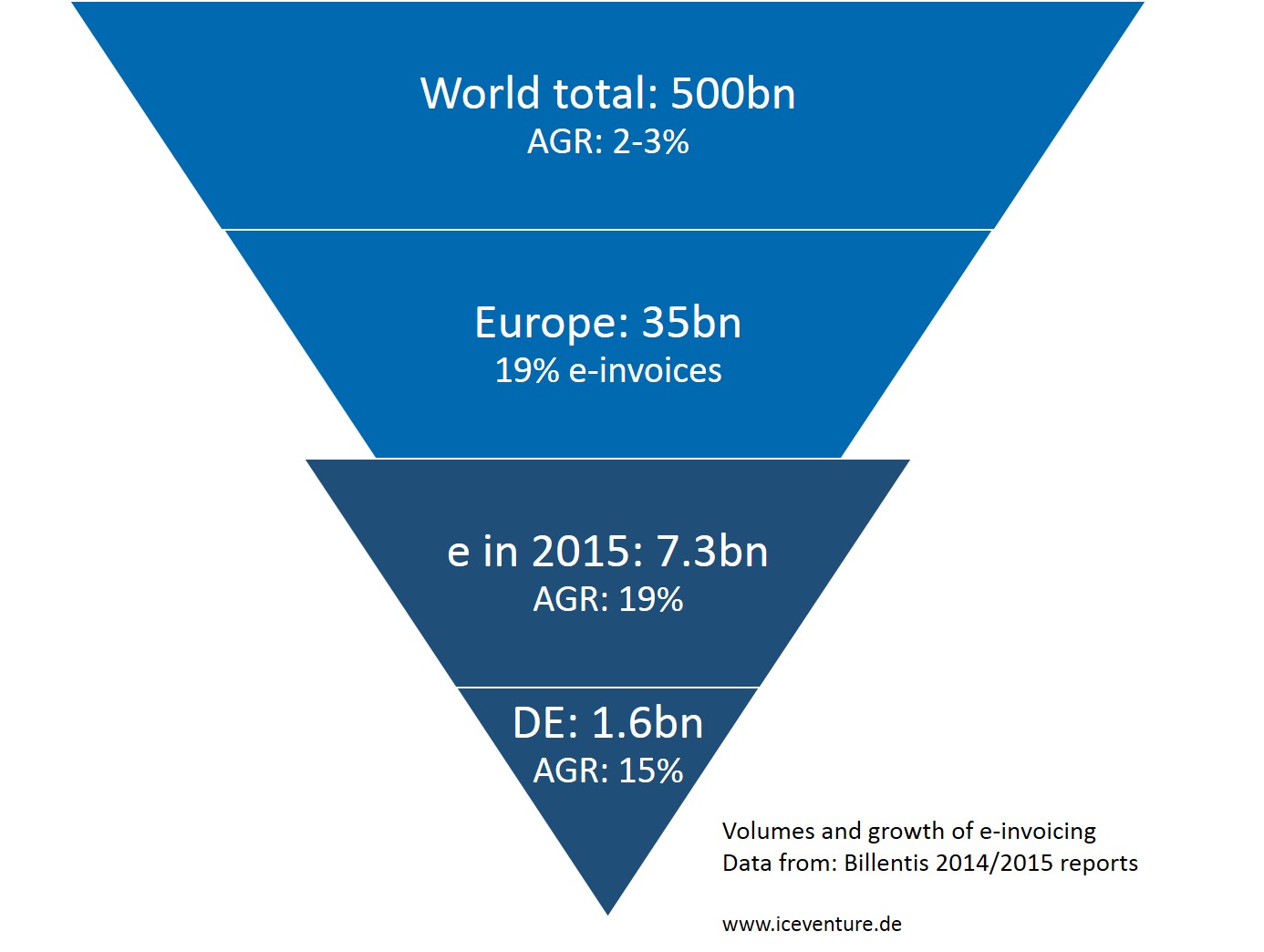 According to a study the annual bill & invoicing volume in the world is at 500bn with an annual growth of something like 2%-3%. Broken down to Europe the amount is estimated to be at 35bn, roughly divided 50:50 between consumer and business (including business to government). In Europe on average 19% of this volume is considered to be transmitted electronically. The market size for E-billing, a further digitalization of this process, is estimated to reach 7,3bn in 2015 with an annual growth rate of 19% (average – B2B/B2G growth is faster than B2C)1. For Germany for example the volume is said to be at 1.6bn with a growth rate of 15,4%2. Numbers for Italy are currently unavailable.
Thus, we are talking about an enormous market volume ready for disruption. That is what Tradeshift aims to do.